Curry is one of the most popular foods found in Birmingham and all other major cities in the UK.
The term "curry" originates in the old Tamil word "Kari," which means sauce or gravy.
The name "curry" does not relate to a single dish in particular; instead, it is a generic term that can be applied to a dish consisting of stewed meat, tofu, or vegetables cooked in a spiced gravy or aromatic sauce. It is served with steamed rice or naan.
Though a South- Asian cuisine, there are several popular Restaurants in Birmingham offering Curry which have helped to cement the city's reputation as a hub for Indian cuisine. But why exactly? We're here to find out.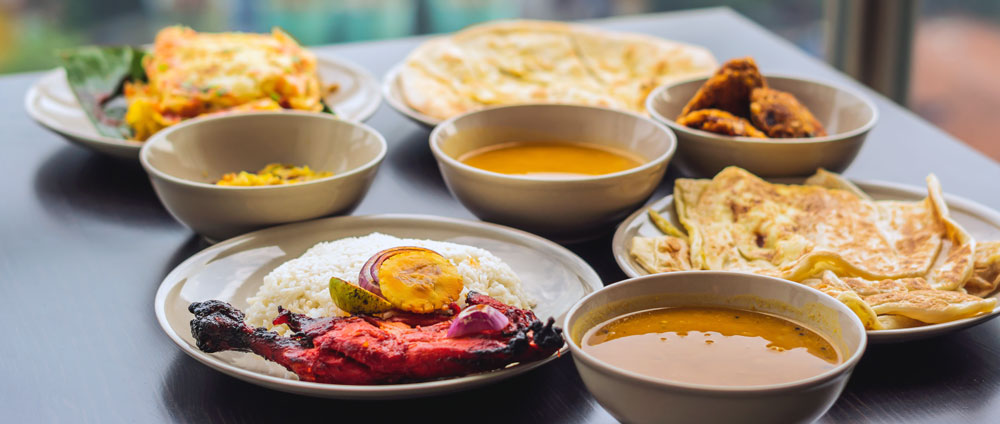 How Curry became British cuisine
The story of how Curry became British cuisine is full of exciting details and fascinating historical figures. Many British personnel in India initially tried to steer clear of Indian cuisine.
The British made every effort to maintain a "pure" British identity in India, including maintaining their culinary practices and preferences. But it wasn't successful.
In India, it wasn't always easy to find the ingredients for British food. Also, most lower-class planters, soldiers, and British administrators who could not afford cooks – mainly cooks trained in British culinary styles – and who couldn't prepare food themselves frequently resorted to consuming what was easily accessible in the area.
In the 19th century, the Indian Curry expanded to all classes of British residents in India, and it eventually made its way into the routine consumption habits and food choices of British residents. It was widely accepted that Joseph Edmunds, a British author, wrote a book on it titled "Curries and how to prepare them."
Once established, the taste for Indian curries was not limited to the British in India. In 1810, Sake Mahommed opened the first Curry house called Hindoostane Coffee House, targeting British imperial officials who had recently returned from India and had a craving for Indian curries.
In 1823, The Brighton Pavilion was opened. It was initially constructed as a resort for king George IV. The Royal Pavilion sparked a craze for all things Indian, which led to the mass adoption of Indian culture and cuisine, especially by the Royals.
Curry became more appealing to the British when William White told the people that curry powder had health benefits. In his book" Curries: their Healthful and Medicinal Qualities, he argued that it is the secret behind the Oriental's healthy living.
Queen Victoria's love for Indian culture and the mass immigration of commonwealth countries into the United Kingdom during World War II boosted the Curry industry.
These immigrants sold Curry and rice alongside fish and chips and meat pies. They catered to a new generation of college students who benefited from the country's rapid growth in the number of Universities in the 1960s, providing them with standard, low-cost cuisine. By staying late, they could get crowds returning from pubs. So, the taste for curries spread beyond the affluent to all classes.
Why Curry became popular in Birmingham
There are many reasons why Curry became popular in Birmingham, but the most striking was because the Balti dish was invented in this city. The balti dish has become a staple of British cuisine, and the Restaurants in Birmingham are one of the main things that has helped it become so popular.
The Balti dish was created in the 1970s by a Birmingham restaurant owner who wanted to attract customers other than those from the local Pakistani community. He made an excellent dish that Westerners enjoy by mixing different herbs and spices.
The balti dish became a popular curry dish. As a result, balti houses started sprouting up to meet the growing demand, which led to the formation of the Birmingham Balti triangle. This area has some of the best food in the UK. It's so popular that people from outside this city come to taste the fantastic food served here; it is a hot spot for tourists and locals.
The Balti Triangle is a community of Balti houses along Ladypool Road, Stoney Lane, and Stratford Road, located south of Birmingham.
However, Birmingham is also home to an array of award-winning restaurants that aim to create the perfect dining experience for residents and visitors. With a wide range of cuisines, ranging from traditional Indian cuisine to Mediterranean fare; there is something for everyone.

Best Curry Restaurants in Birmingham
You can find many Indian Restaurants Birmingham that serve a variety of Curries. But to me, the best curry restaurant is a place to have lunch or dinner while enjoying some company. So, here's my pick;
OPheem
Location:65 Summer Row, Birmingham B3 1JJ, United Kingdom
Opheem is a legendary restaurant that serves delicious and authentic Indian cuisine. Opheem offers an extensive menu filled with food that is both mouthwatering and memorable. The quality of the food served by Opheem is genuinely exceptional, as it is prepared using fresh, high-quality ingredients to cater to its ever-growing customer base.
The owner, Aktar Islam, is a Michelle Star Chef and has been cooking since childhood. So, feel free to visit; you're assured of a great time.
Viceroy Tandoori
Location:109 Icknield St, Birmingham B18 6RZ, United Kingdom
Viceroy is another excellent Indian restaurant Birmingham that serves various curries, including veg and non-veg. They also have an impressive selection of drinks, including a great selection of beer and wine. The food is delicious, but the atmosphere makes this place stand out. It has a warm, cosy feel that makes you want to return.
If you are looking for a restaurant that offers Indian takeaway Birmingham at an affordable price, then visit Viceroy.
Asha
Location:12-22 Newhall St, Birmingham B3 3LX, United Kingdom
The staff in Asha are friendly; the atmosphere is welcoming. The menu offers an excellent variety of authentic Indian dishes, including lamb curry, chicken curry, and vegetarian dishes.
The restaurant has a casual atmosphere. It also has room for larger groups or parties that need extra seating.
The food at Asha is delicious and tastes authentic, which makes it an excellent choice for visitors looking for tasty Indian cuisine.
Dishoom Birmingham
Location: One Chamberlain Sq, Birmingham B3 3AX, United Kingdom
Dishoom Birmingham is a restaurant that offers fantastic food, a fabulous ambiance, excellent value, and quality with delicious food and curries.
They have been serving tasty meals since 2020. The menu is designed to meet the needs of all diners, whether you are vegan or gluten-free. They even have a children's menu available for those who want something different for their little ones!
The Indian Streatery
Location:21a Bennetts Hill, Birmingham B2 5QP, United Kingdom
Indian Streatary has been serving delicious, authentic Indian cuisine in Birmingham. They've got a great selection of curries and sides, with options for vegetarians and vegans. Their food is fresh, flavorful, and beautifully presented—it's no wonder they have a loyal following.
Their staff is friendly and welcoming, so you can relax and enjoy your meal while chatting with them. If you're looking for a great meal that won't leave you feeling stuffed or bloated after eating it, this is the place for you!
Final thought
Regarding Curry, Birmingham sits in a class of its own. It's known as the curry capital of Britain and has one of the largest Indian populations in the country.
The origins of Curry in Birmingham can be traced to Abdul Aziz, an Indian who worked as a labourer in a British Navy ship. It is believed that he started it with an Irish waitress called Violet. They opened a restaurant called Darjeeling, where they sold Curry and rice. This restaurant formed the bedrock of the curry trade in Birmingham.