Cornwall is certainly a majestic haven for people who simply like to eat and enjoy a variety of food selections. Being a giddy mix of the coast and the countryside, Cornwall has a lot of seafood dishes and meat pasties to offer. Located several hours away from London, the breathtaking city of Cornwall offers a unique experience of historical and scenic locations, appetizing food, refreshing drinks, and exhilarating activities.
Visit Well-Known Restaurants in Cornwall
There are a variety of places to eat whilst in Going Out in Cornwall. First on the list is Padstow's The Seafood Restaurant which has gained popularity among tourists and locals. In 1975, TV chef Rick Stein and his then-wife,Jill, launched this restaurant to serve fish and shellfish to people buying freshly-caught seafood from local fishermen. Although Stein is not working in the kitchen now, the restaurant is still highly favored with head chef Stephane Delourme's menu which takes inspiration from the recipes of Stein. Among the restaurant's highlights are hake casserole, Padstow lobster, fruit-de-mer, and Indonesian fish curry. Make sure to reserve your seat since the restaurant can get busy with a long line of patrons.
Another restaurant that deserves your visit is Ben's Cornish Kitchen. As one of the local and national press' favourites, It has earned remarkable reviews with its amazing family-run setup. The head chef, Ben Prior, manages the restaurant's operations with Toby, his brother, who heads the dessert counter. Their mum, Jane, washes up and preps dishes. The notable dishes in this restaurant include smoked venison loin, sweet-curry plate, sea bass with smoked garlic mash, and pan-fried turbot.
Third on the list is Kota Restaurant which can be found on Porthleven. The restaurant is known to serve dishes with influence and dash of flavors from other countries. Since the chef and owner, Jude Kereama, is half-Maori, quarter-Malaysian, and quarter-Chinese, her culinary creations boast of her Asian heritage along with the delicious and fresh ingredients from Cornwall. Among the restaurant's top-notch dishes are roast hake with crab wontons, Cornish honey-soy duck leg with Asian greens, and Falmouth scallops with local pork.
Explore the Trail of Pubs and Bars in Cornwall
The United Kingdom, in general, is known for the pubs and inns that have flourished since their establishment during the Roman times. A lot of these pubs are located in Cornwall, and as you visit this historic city, make sure to have a taste of the sundry drinks that each pub has to offer.
By looking at the outer part of Blue Anchor in the town centre of Helston, one might think that this is just an ordinary pub. But as the saying goes, "Don't judge a book by its cover," Blue Anchor is the home of the extraordinary and most feared ales in Cornwall – the Spingo. There are levels to how strong this type of ale can be, so be sure to ascertain your tolerance before giving this legendary drink a shot.
Another pub you can visit in Cornwall is The Admiral Benbow in Penzance. Not many people will describe this place as the best pub in the area, but this will surely leave an impression. This place might remind you of museums with its quirky maritime decors and interior. The food in this pub is also commendable in combination with their beer. A few steps away from The Admiral Benbow is the Turk's Head which takes pride in its own assortment of food and drinks.
Tinner Arms, which dates back to the 13th century, is another must-visit in Cornwall. Having withstood the test of time, this Grade II listed pub mirrors the city's ancient period. This is a cozy bar, so you will never go wrong visiting this place during your stay in Cornwall.
From bars at the beach to sophisticated cocktail bars, Cornwall has everything for you. One of the busiest bars in the area is Blue Peter where you can enjoy your drink at the beer garden and have a stunning view of the sea. On most days, the bar's sweet, live music sets a perfect ambience.
If you're into more adventure, you can always head to the Sloop Inn for some pirate-y vibes. Its atmosphere guarantees many locals and guests relaxation and delight with the city's best beer and affordable food.
From busy and laughter-filled bars, you can always head to a comfortable and classy establishment whilst Going Out in Cornwall. One of the best ones is the Old Coastguard where you can enjoy the Cornish sunshine as you sip your exquisite wine. The various dishes in this place are all made from local ingredients, offering visitors nothing but the best among the restaurants in the area.
The Watering Hole is deemed one of the best bars to visit in Cornwall. Located in Perranporth, this is the one and only bar that is actually on the beach in the whole United Kingdom. Undoubtedly, it is a favorite spot among all places in Cornwall, well-loved by locals and tourists, especially when the sun's about to set to make way into the night. You can enjoy watching the magical sunset while sipping your beer and covering your feet in sand. The bar also allows visitors to take a dip in the water.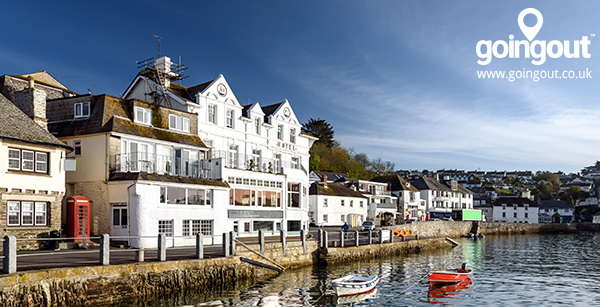 Go Strolling around Cornwall
If you're staying in Cornwall for another couple of days, there are a lot of other things you can do in this wonderful city to make your stay fun, exciting, and worthwhile.
For one, you can explore the stunning coast of Cornwall by going to the Swim Wild Tribe where swimming sessions are offered by private or by group of up to five people. This is a nice way to unwind and meet people who share the same interests. Your safety is a priority as experienced and qualified instructors run and oversee the sessions.
For land adventures, you can always look for historic or remarkable places to check out in Cornwall. The city has a lot, so you have a broad span of options to consider and choose from. One specific attraction you can check out is the Eden Project. This area is considered as the world's largest indoor rainforest with its wide variety of plants.
If you're more of a history buff, there are a lot of castles and museums you can visit in Cornwall. The King Arthur tour is an ideal way to learn about the ancient monarch. After the tour, you will surely have a load of legends and stories to share with your friends.
You really do not need to spend a lot of traveling time when you can go to Cornwall instead. Whether you fancy a bite to eat in one of the Restaurants in Newquay or if you want the sun, beach, drinks, food, and exciting activities, Cornwall is one of the best places for a trip.